Join the Friends of Joel Gill, be notified of Joel's
appearances and speaking engagements
Read Joel's
Official Announcement
to run for US Congress 2010
"I bring a combination of both business and political experience to the office.
There are plenty of lawyers in Congress already. Its time we elect a businessman with common sense who knows how to function effectively in the legislative environment as well."
CONTRIBUTE
"Many of you have expressed a desire to assist in my campaign by making a donation. NOW IS THE TIME! Your donation will be of great use and will be deeply appreciated. "
DONATE ONLINE
Or mail your check to:
Joel Gill for Congress
PO Box 1755
Ridgeland, MS 39158-1755
If every one who thinks enough of me to give me their vote would be willing to give $20 to restore your voice in Washington, we would raise well over $2,000,000 and have a very good chance for success. Please prayerfully consider this request and help with whatever your budget will allow by clicking on the link below today.Thank you for your gift.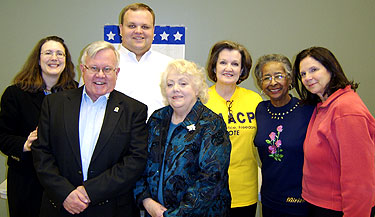 Members of the Rankin Co. Federation of Democratic Women. The gentleman are Joel Gill and Thomas Ward, Sec. for the Rankin Co. Democratic Executive Committee.
Please read YOUR VOICE and find the differences
between Mr. Harper and myself.
VOLUNTEER
Volunteering is a great way to show your support! Below is my campaign want list. Many of you have gifts other than money that would be of great value!
I need volunteers to help me with the services below:
make phone calls
put out signs
volunteer in office
display bumper sticker
display yard sign
host fund raiser in your home
organize and sponsor large fund raising event
become a county/precinct organizer
invite candidate to speak to your organization's regular meeting
Please call or email if you have the time to do any of these things!
Your help is deeply appreciated.

Contact [email protected]
Call: 601-613-1235
INVITE
Request Joel Gill to attend or speak at your meeting or event.

If you would like to host an event for Joel Gill, please call or email us.
Contact [email protected]
Call: 601-613-1235
CONSERVATIVE DEMOCRAT
In town, county, district and regional offices across our state are hundreds of dedicated Conservative Democrats who serve us well.
In that fashion I am ready to represent you to make your voice heard and acted on in Washington.
VOLUNTEER YOUR SERVICES:
watchmasterdirect fake watches
make phone calls
put out signs
volunteer in office
display bumper sticker
display yard sign
host fund raiser in your home
organize and sponsor large fund raising event
become a county/precinct organizer
invite candidate to speak to your organization's regular meeting